Community Eligibility Information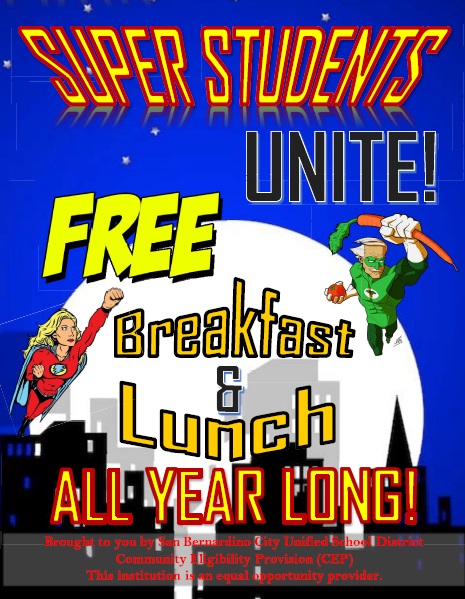 The Community Eligibility Provision (CEP)
is a provision from the Healthy, Hunger-Free Kids Act of 2010 that allows schools with a high percentage of students that receive state assistance to provide free breakfast and lunch to all students.
San Bernardino City Unified School District is pleased to announce that all SBCUSD school sites will be participating in the Community Eligibility Provision (CEP) starting in the 2019 - 2020 school year. The expanded program will now allow all of our students to have access to free meals and be better prepared to learn in the classroom.
Elementary Schools: Alessandro, Allred, Anderson, Anton, Arrowhead, Barton, Belvedere, Bing Wong, Bradley, Brown, Cole, Cypress, Davidson, Del Rosa, Dominguez, Emmerton, Fairfax, Gomez, Harmon, Henry, Highland Pacific, Hillside, Holcomb, Hunt, Inghram, Jones, Kendall, Kimbark, Lankershim, Lincoln, Lytle Creek, Marshall, Monterey, Mt. Vernon, Muscoy, Newmark, North Park, North Verdemont, Norton, Oehl, Paakuma, Palm, Parkside, Riley, Rio Vista, Roberts, Roosevelt, Salinas, Thompson, Urbita, Vermont, Warm Springs and Wilson.
Community Eligibility Letter to Household (English)
Community Eligibility Letter to Household (Spanish)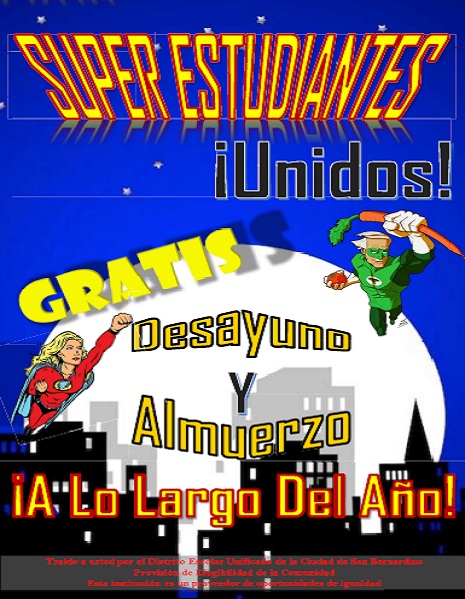 Middle Schools: Arrowview, Chavez, Curtis, Del Vallejo, Golden Valley , King, Richardson, Serrano and Shandin Hills.
High Schools: Arroyo Valley, Cajon, Indian Springs, Middle College, Pacific, San Andreas, San Bernardino, San Gorgonio and Sierra.
Additional Sites: Burbank Preschool, Indian Springs HS Day Care, San Bernardino CDS and San Bernardino HS Day Care.
If your student will be attending one of the sites listed below, please review the following documents, and click on your child's school.
"All families with NEW STUDENTS to SBCUSD are required to complete a
new income survey for the 2020-2021 school year."
"If you have any questions, or need help completing
the income survey, please contact Nutrition Services at
(909) 881 - 8000."
Income Survey Letter- English
Income Survey Letter- Spanish